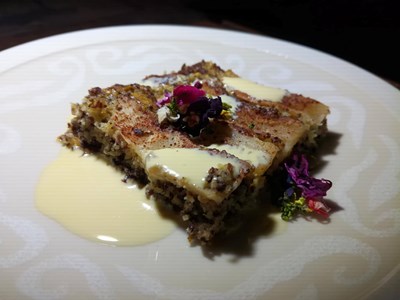 Apple pie from Karviaisten Tila
(Not vegan)
1,5 dl sugar
3 large eggs
50 g foamed, melted butter
2,5 dl broad bean flour from Karviaisten Tila
3 tsp baking powder
2 dl milk
apples
Whip 1,5 dl of sugar and 3 large eggs into a foam. Add 50 g of foamed, melted butter into the mixture. Mix together 2,5 dl of broad bean flour from Karviaisten tila and 3 tsp of baking powder. Add 2 dl of milk into the flour and let the mixture swell for 5 minutes. Combine the swollen mixture with the egg-sugar foam. Line an oven tray and pour the mixture on it, add sliced apples. Sprinkle the apples with sugar.
You can replace the apples with blueberries, red currants or rhubarb.
Bake for 20-25 minutes in 200 degrees C (no fan-assist).