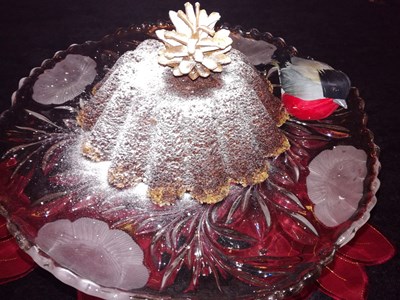 Date & Broad Bean Cake
For a vegan version, replace butter/shortening with 0.5-1dl of vegetable oil, and replace eggs with 1 tbsp psyllium.
Ingredients
1 packet of dates (250 g)

1 dl of sugar

3 dl of water

50-100 g of butter or shortening




1.5-2 dl of water (fluid for the broad beans)

2 eggs 

3.5 dl broad bean flour




1 tsp baking powder

1 tsp baking soda

1 tsp vanilla sugar



Method
Boil the dates, sugar and 3 dl of water into a pulp.

Add 50-100 g of butter or shortening, mix and allow to cool.

Add eggs/psyllium and 1.5-2 dl of water to the date pulp.

Mix together the dry ingredients (broad bean flour, baking powder, baking soda, vanilla sugar).

Add the dry mixture to the pulp.

Grease a baking tin with butter/oil and dust the pan with Voima Papu broad bean flour (you can also use breadcrumbs or sugar).

Bake for 45-50 minutes at 170 degrees C.
Voima-Papu broad bean flour can be found on our online shop: Web Shop / Karviaistentila.fi