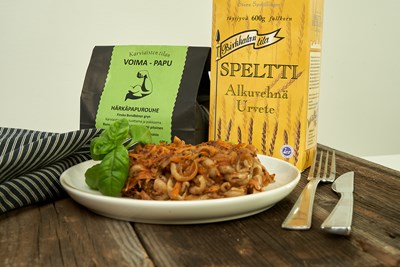 Voima-Papu Broad Bean & Spelt Pasta Bake (VG)
Vegan broad bean and spelt pasta oven bake
2 dl VOIMA-PAPU ground broad beans (or roasted, ground broad beans)
600g Birkkala spelt cappelli or spelt fusilli pasta
1 large onion
2 grated carrots
4 dl oat cream
8 dl water
1 tbsp paprika powder
½ tsp allspice / pimenta
1 tbsp dry basil
1 tbsp soy sauce
Cooking oil for the oven dish and the frying pan
Method
Grease the baking dish with the oil.

Chop the onion and fry it in a pan until soft.

Add the ground broad beans and grated carrot.

Mix in the herbs and spices and then add the cream, soy sauce and water.

Pour the uncooked pasta and the sauce into the oven dish and mix.

Bake at 200 degrees in the lower part of the oven for approx. 30-40 minutes.