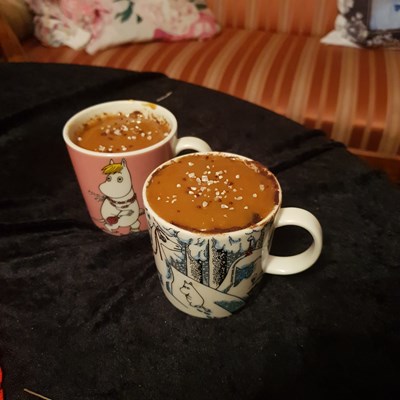 Voima-Papu Coffee Cup Cake (GL)
Ingredients
Cake:
1.0 dl broad bean flour

0.4 dl oil

1.0 dl sugar

1 egg

⅓  tsp baking powder

⅓  tbsp vanil sugar

⅓  tbsp dark cocoa

0.7 dl  milk
Caramel topping:
0.5 dl  cream 

0.5 dl  sugar

about ½ tsp butter                                                   
Method
Cake:
Whisk the sugar and egg into a froth.

In a separate bowl, mix the flour, vanilla and cocoa together.

Slowly, combine the flour mixture and milk into the dough, alternately adding some of each.

Mix well. Finally, add the oil.

Take two coffee cups, fill both halfway with the cake mix.
Cook in the microwave for 4min (800w). If you want them a little undercooked, microwave for only 2min 30sec (800w).
BEWARE OF THE HOT CUP!
Cover and stand to cool. If you want them a little undercooked, microwave for only 2min 30sec (800w).
Caramel topping:
For the topping, you need 2 saucepans and a spatula.
Pour the cream into one saucepan and heat it gently, do not cook it.

In another saucepan, add the sugar and let it melt and brown for about 5 minutes, stirring occasionally.

Do not burn the sugar, otherwise the caramel will have a bitter taste.

When the sugar is a golden brown color, pour in the warm cream from the other saucepan. The mixture will bubble for a while, be careful that it does not boil over.
Let the sauce simmer for about 10 minutes on medium heat and stir continuously with a wooden spatula. The mixture should boil moderately all the time.
The mixture gradually becomes caramel, but do not cook too much, because then when it cools, it becomes hard, and the cake cannot be cut.
You can test after 10 minutes by placing a teaspoon of the mixture on a cold plate and putting it in the refrigerator for a while, if after a while it is sticky caramel-like, the caramel is ready. You should stop cooking the mixture while you are testing.
Immediately pour the finished warm caramel evenly onto the cooled coffee cup cakes.
Recipe updated by the Farm's hostess, Katriina, on 16.01.2021.
Voima-Papu broad bean flour can be found on our online shop: Web Shop / Karviaistentila.fi