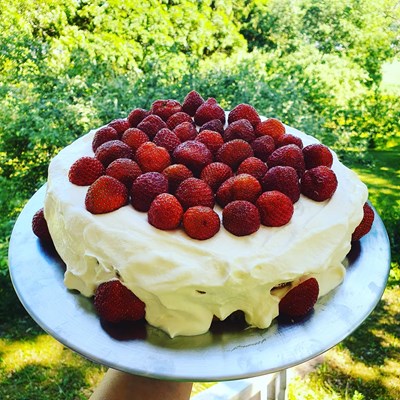 Voima-Papu Sugar Cake (GL)
Ingredients
4 eggs

1.5 - 2.0 dl sugar

1.0 teaspoon baking powder

1.0 dl broad bean flour

0.5 dl potato flour / corn flour / Birkkala Farm spelt flour / wheat flour

2 dl oat milk or whipped cream

1 tsp sugar

3 drops of rum flavour
Method
Beat the eggs and sugar to a froth.

Mix the dry ingredients together (baking powder and both types of flour).

Add to the egg/sugar mix.

Line a baking tin with baking paper. A
dd mixture to the baking tin and cook at the bottom of the oven at 170 degrees C for 35 minutes.
When cool, slice through the cake and moisten the inside surfaces of the cake with strawberry juice.
Whisk the oat milk or whipped cream, adding 1 teaspoon sugar and 3 drops of rum flavouring.
Slice some strawberries and place them on the bottom layer of the cake.
Pour some of the oat milk or cream onto the strawberry slices.
Place the second layer of cake on top.
Decorate the top of the cake with the remaining cream and strawberries. 
You can always add more sugar to the whipped cream to suit your taste. 
The recipe was created by the hostess of Karviainen farm on July 1, 2020.
Voima-Papu broad bean flour can be found on our online shop: Web Shop / Karviaistentila.fi