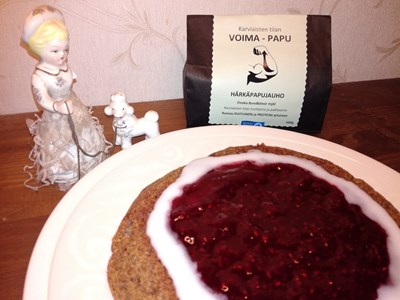 Voima-Papu Runeberg's tart
 Vegan
1,5 dl Voima-Papu broad bean flour
1 dl almond flour
100 g shortening, melted
1 dl brown sugar
1 tbsp psyllium
2 tsp baking powder
1/3 tsp baking soda
2 tsp vanilla sugar
1 dl apple juice
10 drops of bitter almond extract
Mix the dry and wet ingredients (melted butter + brown sugar + apple juice + drops) together in separate bowls, then combine. Pour the mixture into a lined, 20 cm pan. Bake for 30 minutes in 170 degrees C. Let the tart cool down.
Top with 150 g of raspberry jam, 2 dl of icing sugar + 2 tbsp of water.
Decorate with a large circle of raspberry jam on top. Pipe a white circle (icing sugar + water) around it.